These days, the speed of your website is crucial to your success.
Search engines like Google rank you much higher if your site is faster and more accessible than your competitors.
Knowing that, it's a no-brainer that you should choose a WordPress theme for your site which lives by those principles – fast and accessible.
As I continue to develop GeneratePress, speed and accessibility are two major factors behind almost everything that I do. From minifying scripts and styles, to removing unnecessary bulk, making GeneratePress faster and perform better is one of my highest priorities.
That being said, there's a handful of things we can do that will help you increase optimization even more. This article will list out some awesome tips for making GeneratePress one of the fastest WordPress themes available.
---
Autoptimize is an awesome plugin. It has every single option we need baked into it, making this entire process incredibly easy.
Reducing the amount of CSS and JS files being loaded on each page load will make a huge difference to your page speed.
Another perk with Autoptimize is it will bundle the CSS generated by your options in the Customizer into an external file, allowing your browser to cache it.
I suggest selecting these options: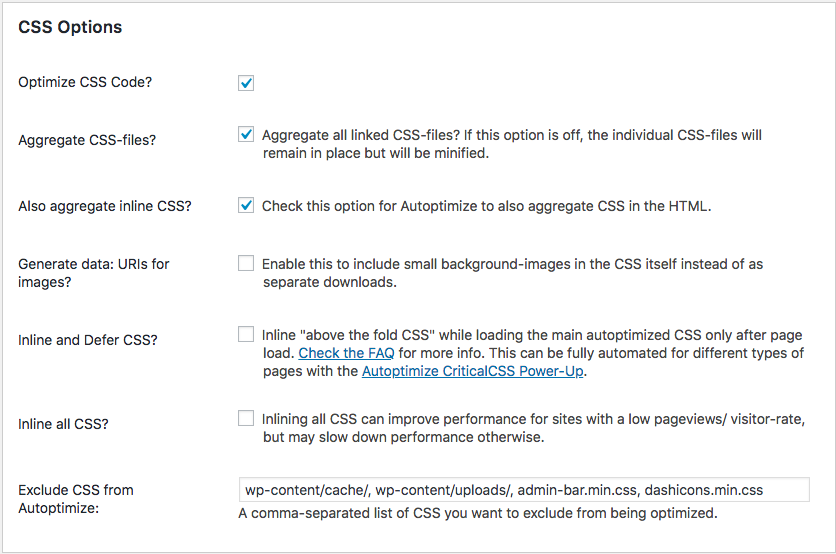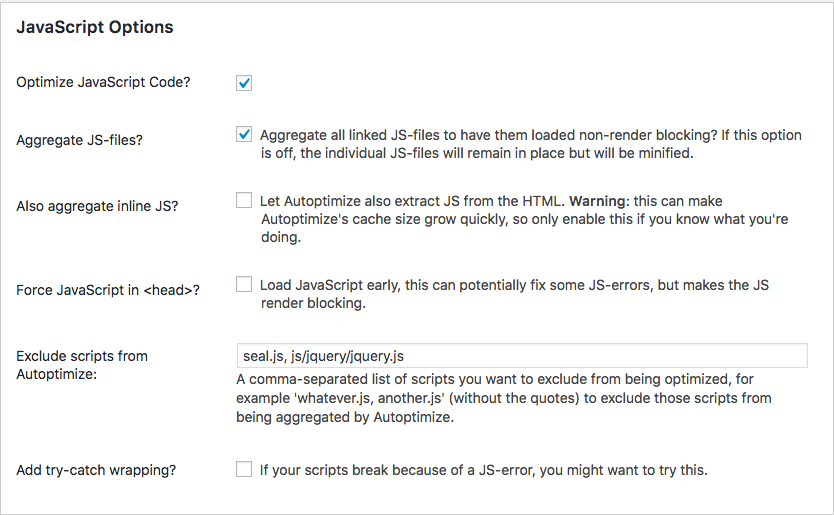 Note: You'll have to click the Show advanced settings button to show these extra options.
---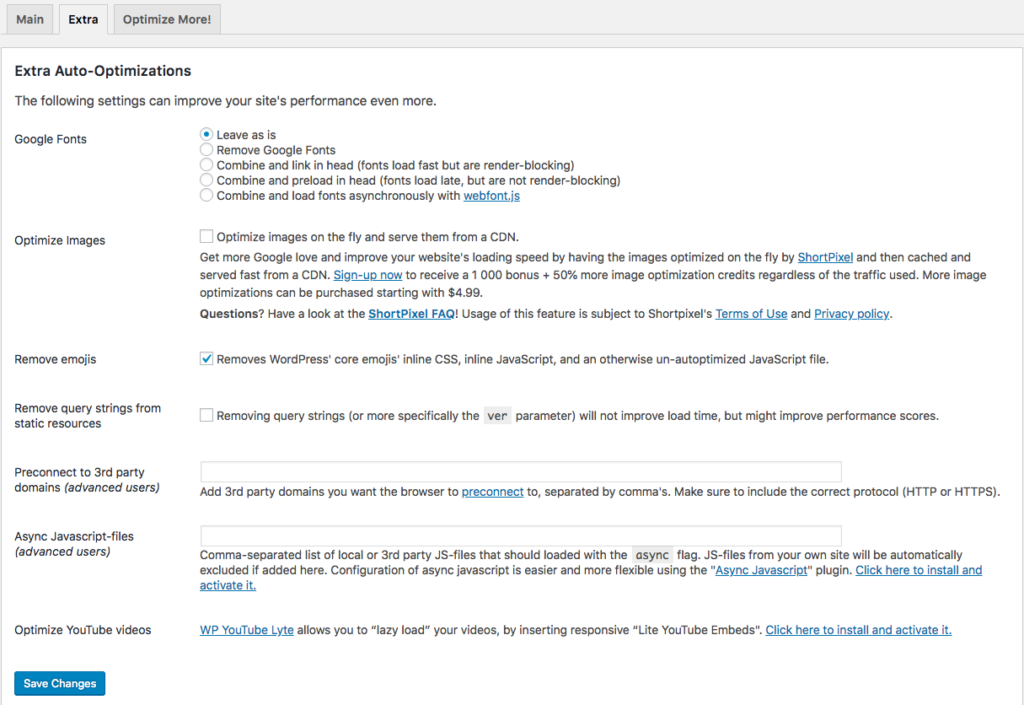 Removing Emojis
If you don't use emojis on your site, then there's really no point in loading the scripts for them.
Autoptimize also has an option for this, which you can find in the Extra tab within their settings. Check the box next to Remove emojis, and you're good to go!
Removing Query Strings
While this won't make a noticeable difference in your page speed, it will increase your ranking in speed tests.
One issue with this is it removes the version numbers from your static resources, like CSS and JS files. Those version numbers are there to tell browsers to stop caching the file if the version is updated.
Without the version numbers, browsers won't release the cache when you update your theme or plugins, which can result in some weirdness until the cache is cleared.
If you'd like to remove query strings, you can use the same Autoptimize plugin we featured above. Click on the Extra tab within the Autoptimize settings, and check the Remove query strings from static resources checkbox.
---
Our results
Now that all of the above is done, we can check our speed scores.
Here's a test site for us to work with: GeneratePress Speed Test
It's important to note that this test site is incredibly bare.
Of course, as you add more plugins and content, these scores will change.
This test is useful, as it's super important to build your WordPress site on a fast foundation before you start adding your own content and plugins.
Pingdom
First, we'll look at our results using Pingdom.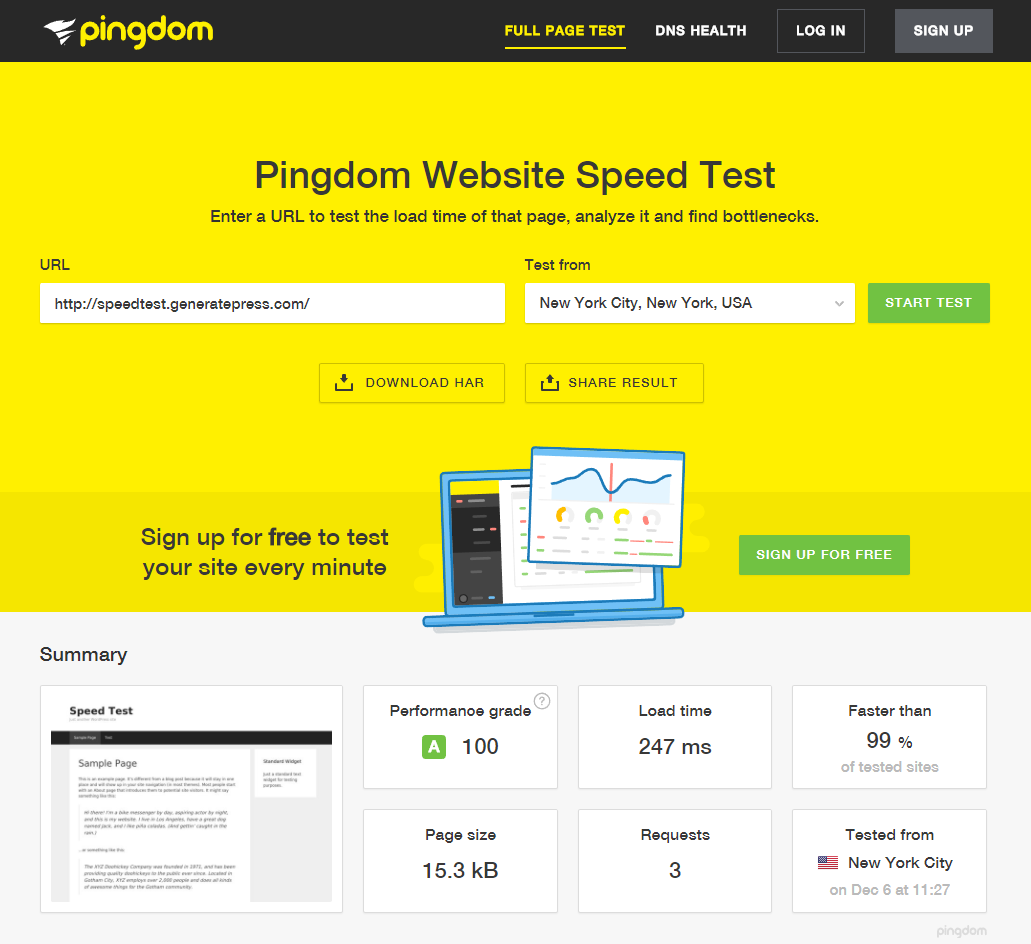 Pretty impressive! Our speed test site is only using the methods explained above, nothing else.
GT Metrix
Now we'll look at our results using GT Metrix.

---
Final thoughts
Based on these scores, I'm very comfortable using GeneratePress as a foundation to build websites for my clients.
Of course, optimization and speed is something I'm constantly working on and looking to improve. There's always more to do!
Special shoutout to Mike Andreasen from WP Bullet. He's helped me a lot when it comes to website/server optimization. If you're interested in speed and optimization tips, check out his guides here, or you can hire him here.
If you have any thoughts please feel free to post a comment!