GP Premium 1.4 has been released.
This is a pretty major update, mainly surrounding the Page Header add-on.
Page Header
Page Header has been completely rebuilt – from the code to the usability.
Here's some new documentation articles for the new Page Header add-on:
Check out this quick video showcasing the changes:
Font Variants
GPP 1.4 also includes a new variants field for your Google fonts. This allows you to choose exactly which variants are loaded for each font you choose.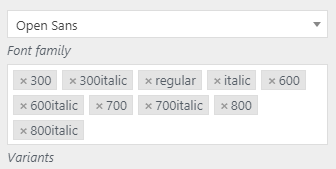 If you'd like to learn more about this feature, check out the documentation here.
Changelog
This update also includes lots of other changes, fixes and tweaks.
1.4.3
Page Header: Pass args to post_thumbnail_html filter
Page Header: Allow custom field template tags on pages
Page Header: Re-add generate_page_header_video_loop filter
Page Header: Add generate_page_header_video_muted filter
Page Header: Remove taxonomy title if page header has title
WooCommerce: Improve disabled WC button styling
1.4.2
Page Header: Improve inner container
Page Header: Allow contained page header even when position:absolute is set
Page Header: Apply page header text color to headings in page header
WooCommerce: Fix mobile columns issue
1.4.1
Page Header: Fix error in Customizer when using PHP version < 5.5
1.4
Colors: Add back to top button color options
Colors: Add h4-h5 color options
Colors: Move button color options into own Buttons section
Hooks: Show PHP execution message to admins only
Menu Plus: Improve disabling of native mobile menu when slide-out is set
Menu Plus: Fix sticky mobile menu when navigation is in sidebar
Menu Plus: Fix invisible navigation when slide sticky is shown/hidden quickly
Page Header: Complete code re-write
Page Header: Turn Page Headers into a custom post type (CPT)
Page Header: Can be applied per page, or globally (pages, posts, categories, CPTs etc..)
Page Header: Template tags can be used in Page Header content (page title, author, date)
Page Header: Turn bg color options in RGBA picker
Page Header: New use bg color as image overlay option
Page Header: Re-write parallax feature
Page Header: Migrate Blog Page Header in Customizer into a CPT post on update
Page Header: Add "Inner Container" width option.
Page Header: Add menu background color (instead of forcing transparent)
Page Header: Show content options all the time
Page Header: Force full width page header if merge is set
Page Header: Use set default color palettes in color pickers
Page Header: New left/right padding option
Sections: Make background color rgba color picker
Sections: Add background color overlay options
Sections: Use set default color palettes in color pickers
Sections: Fix dropdown z-index bug introduced in WP 4.8.1
Typography: Add H1-H3 line-height options
Typography: Add H4-H5 typography options
Typography: Add footer/copyright area typography options
Typography: Add button typography options
Typography: Rename Content Customizer section to Headings
Typography: Add widget title separating space option
Typography: Make fonts in Customizer search-able
Typography: Allow Google Font variants to be added/removed
WooCommerce: Fix columns issue on some pages
WooCommerce: Fix mobile columns when using shortcode
WooCommerce: Fix extra spacing in empty cart menu item
WooCommerce: Show Cart text if no icon
WooCommerce: Make cart menu item filterable
WooCommerce: Fix sales badge height in IE11