GP Premium 1.3 has been released.
This is a feature release, mainly focusing around our newest WooCommerce add-on!
WooCommerce
With the release of our new WooCommerce add-on, we have much more control over our WooCommerce layouts, colors and typography.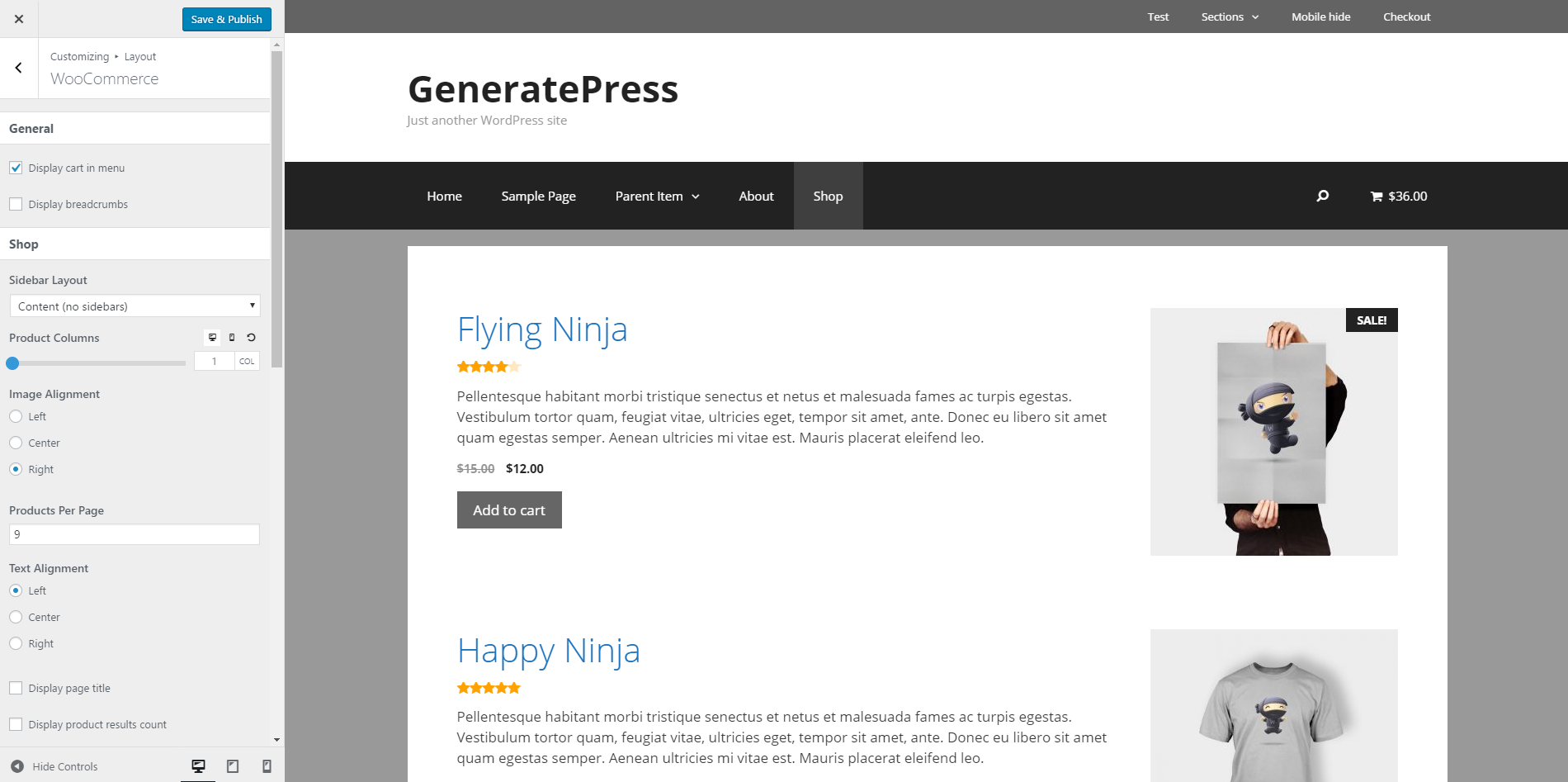 The new layout features include:
General
Display cart in menu
Display breadcrumbs
Shop
Sidebar layout
Product columns (mobile and desktop)
Image alignment
Products per page
Text alignment
Display page title
Display product results count
Display product sorting
Display product image
Display secondary image on hover
Display product title
Display sales flash
Sales flash over image
Display rating
Display price
Display add to cart button
Display short description
Single product
Sidebar layout
Display product tabs
Display related products
Display upsell products
Related/upsell columns
Display product meta data
Display short description
Checkout
Colors
Product title + hover
Alternate button background + hover
Alternate button text + hover
Star ratings
Sale sticker background + text
Price
Product tab text + active
Success message background + text
Info message background + text
Error message background + text
Typography
Product title weight, transform and font size
Related/upsell title font size
Mobile Controls
Mobile controls have a new UI, and more have been added.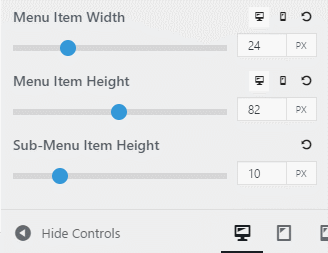 New mobile controls include the menu item width, menu item height and primary menu item text.
Sticky Navigation
You can now control the height of your sticky navigation, meaning there can be a smooth transition from your taller (or shorter) menu when it transitions from static to stuck.
The "No transition" sticky navigation has also been re-written to increase performance and make it more flexible for future features.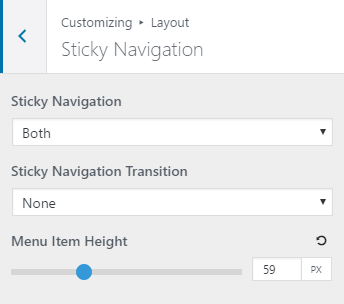 Slide-out Navigation
Your slide-out menu items also have a new option to control their height, allowing you to make it different from your regular menu item height.
Full changelog
= 1.3 =
Backgrounds: Fix big with 100% auto sizing option
Colors: Add WooCommerce add-on colors
Import/Export: Add WooCommerce add-on
Menu Plus: Improve Navigation Logo sizing
Menu Plus: Re-write no transition sticky navigation
Secondary Nav: Add padding to sides of top bar when merged
Secondary Nav: Only load resources if the Secondary theme location is set
Sections: Fix mix up of left/right content padding
Spacing: New mobile menu item width/height options
Spacing: New sticky menu item height option
Spacing: New slide-out menu item height option
Typography: New mobile menu item font size option
WooCommerce: Introducing new WooCommerce add-on
Move all Customizer controls and helper functions into globally accessible library
Rebuilt range slider control to include responsive icons which display responsive controls
Rebuilt typography control reducing number of controls from 50 to 10 (performance)
Updated the automatic updater function
Add filter to enable beta updates: generate_premium_beta_tester