GeneratePress 2.2 is a very big feature release. Not only does it boast full compatibility with Gutenberg, but it includes lots of new free features built to save you time!
Gutenberg
Gutenberg is the current project name for the future block editor in WordPress 5.0, which is being released in the second half of November.
I'm personally really excited about Gutenberg! It will allow for more complex layouts to be built without the need for plugins, shortcodes or page builders.
In fact, we used Gutenberg in its infancy to re-design our current site.
If you'd like to learn more about Gutenberg, check out this site.
So, what has GeneratePress done when it comes to Gutenberg?
Disable Content Title
The option to disable the content title has been a part of GeneratePress for a long time, but we wanted to make it easier on you while using the block editor.
So, we added a toggle when you hover over your content title in the editor which you can click to disable the title.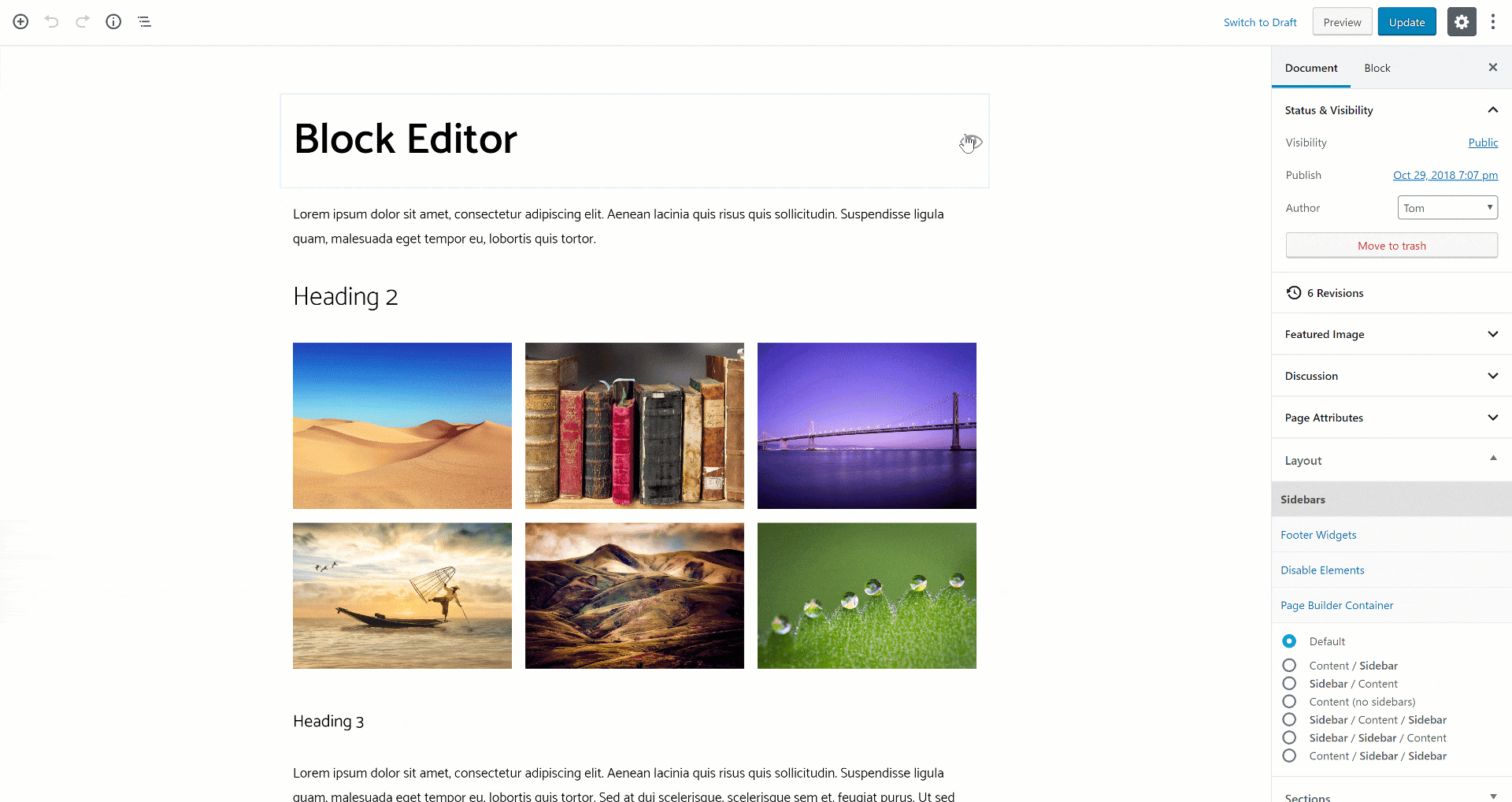 Frontend Styling
The block editor will inherit all of the styles from your content area. This means things like your font families (including Google Fonts), font sizes, background colors, and text colors will be visible as you build your page.
This gives you a realistic view of what your page will look like when you're done.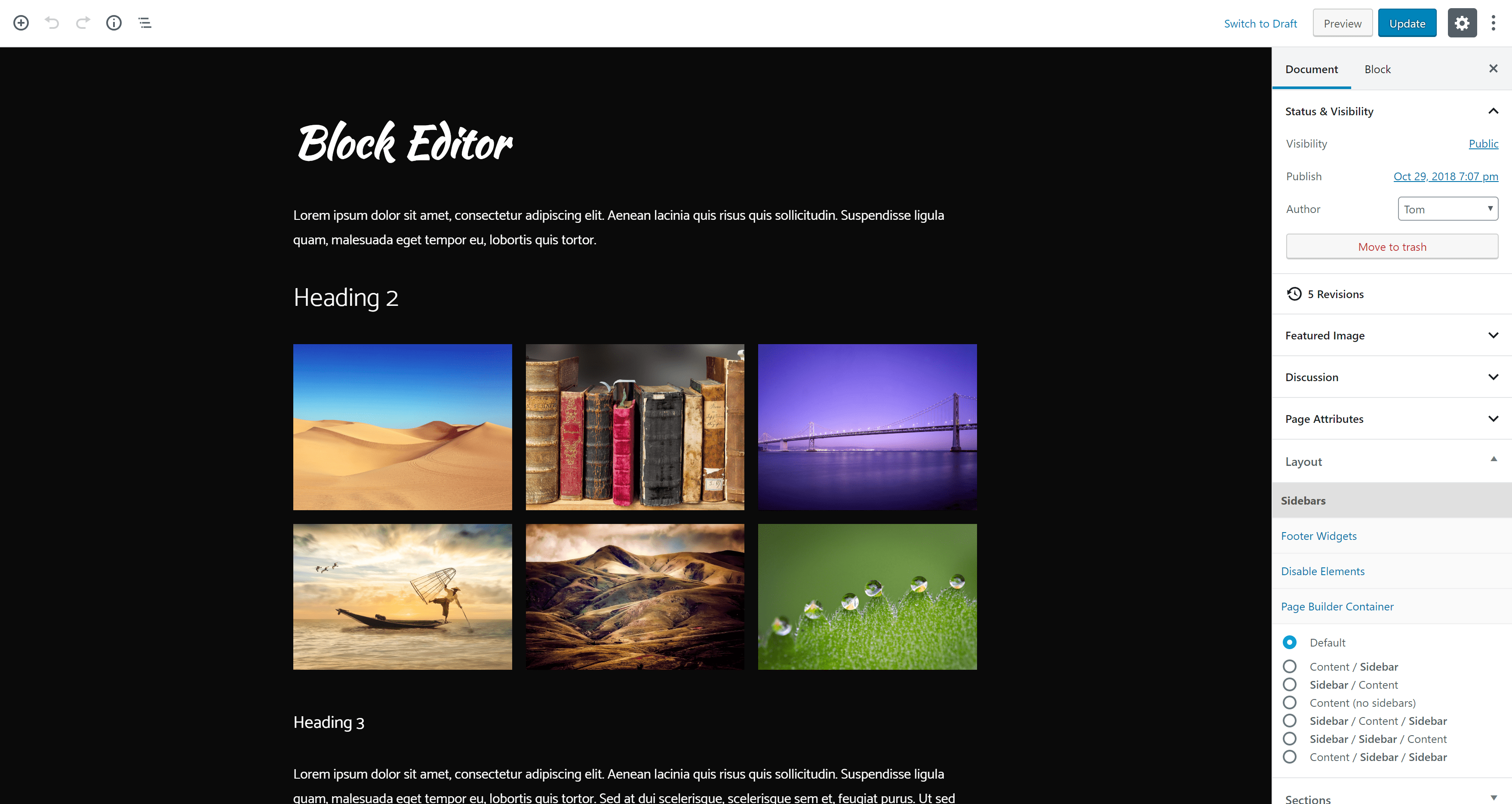 Realistic Content Width
Having an idea of how your content will look is important, so we've added logic to the editor that will set the width to what it will be on the live page. This width takes your sidebar layout into account, as well as your container width and your Page Builder Container settings.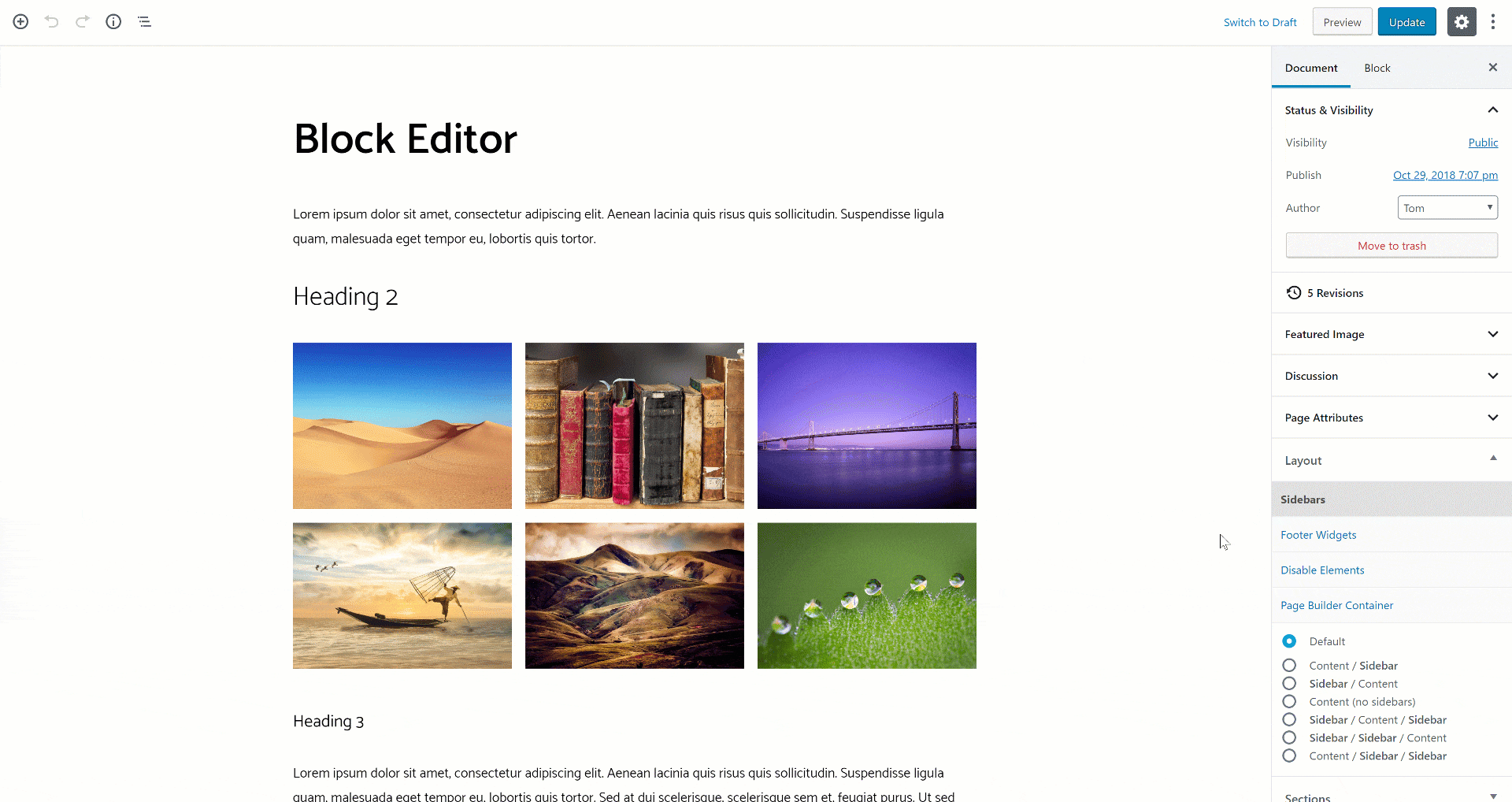 Layout Elements
We've applied our own columns CSS to the columns block, which improves browser support and mobile responsiveness over what WordPress has done by default.
We've also added your paragraph margin setting to the bottom of each block on the frontend of your site. This keeps spacing consistent throughout your content.
Performance
Gutenberg adds a stylesheet to your site by default with all block styles. This makes us pretty sad, as we work hard to keep your site as light as possible.
We experimented with removing their styles by default and adding our own, but decided it would be a compatibility nightmare in the future.
However, they're planning on only loading CSS used by blocks on your page, which will be a huge improvement that we're looking forward to.
So, that's enough of Gutenberg for the moment. What else is new?
Navigation Drop Point
One of the issues we see a lot is when the navigation is aligned right (or left), and the browser isn't wide enough to fit the logo and navigation on one line.
To combat this, we've added a new option which allows you to specify a width at which point the navigation will drop down onto its own line and center.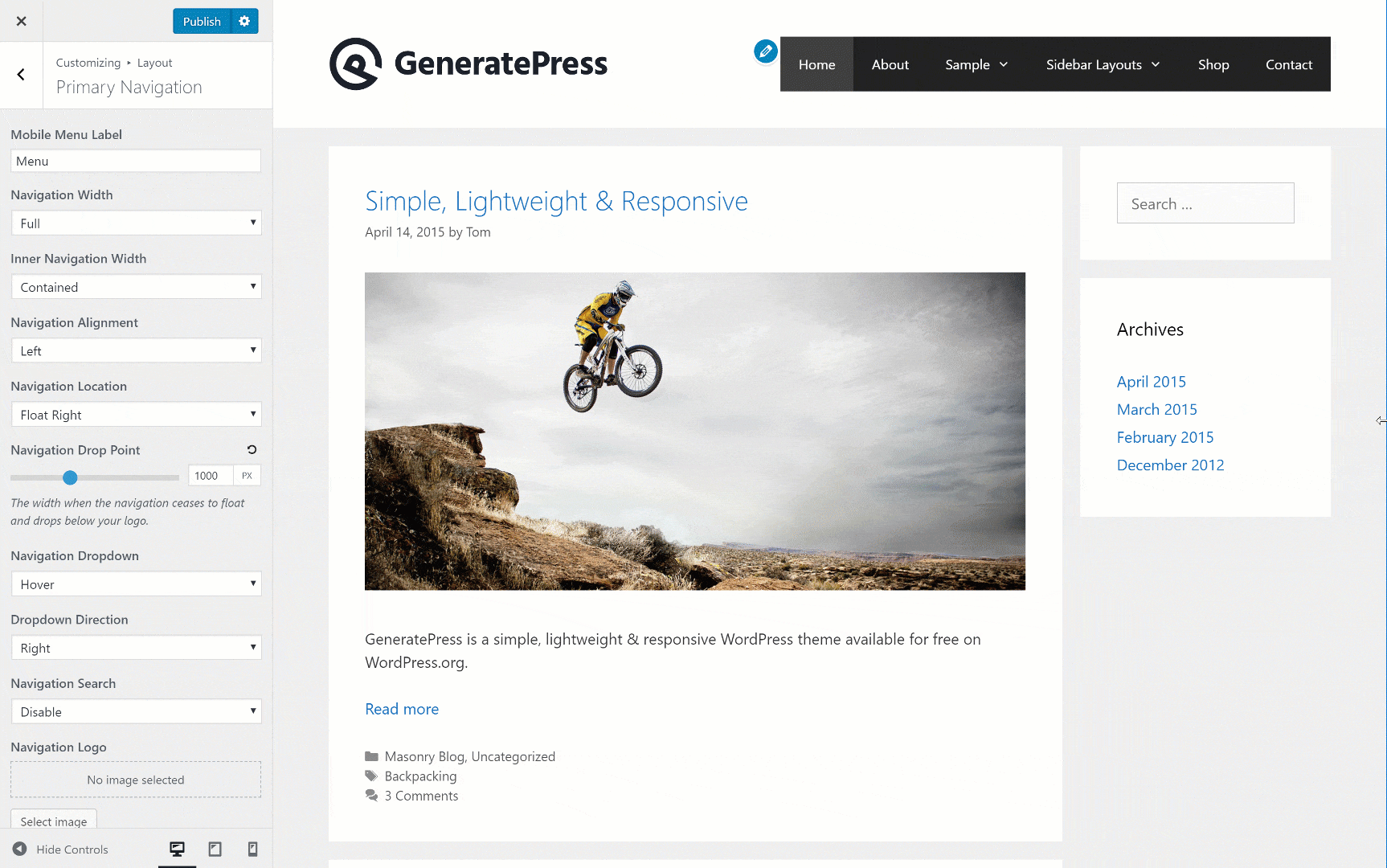 Logo Width
You can now set the logo width directly inside the Customizer. This is great for creating retina logos, or even using SVG images as your logo.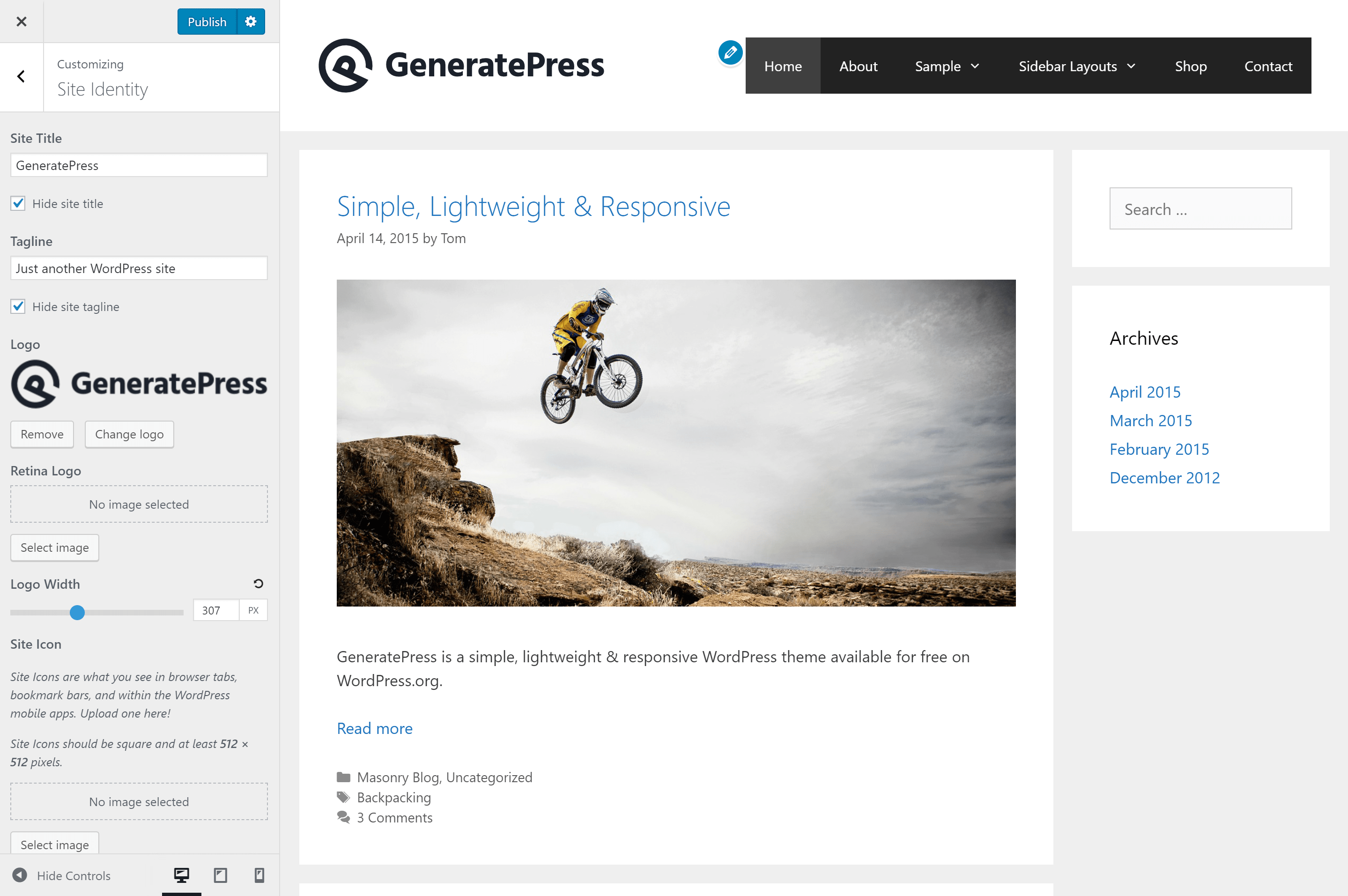 Sub-Menu Direction
You can now change the direction of the sub-menu when you're using a regular hover dropdown type.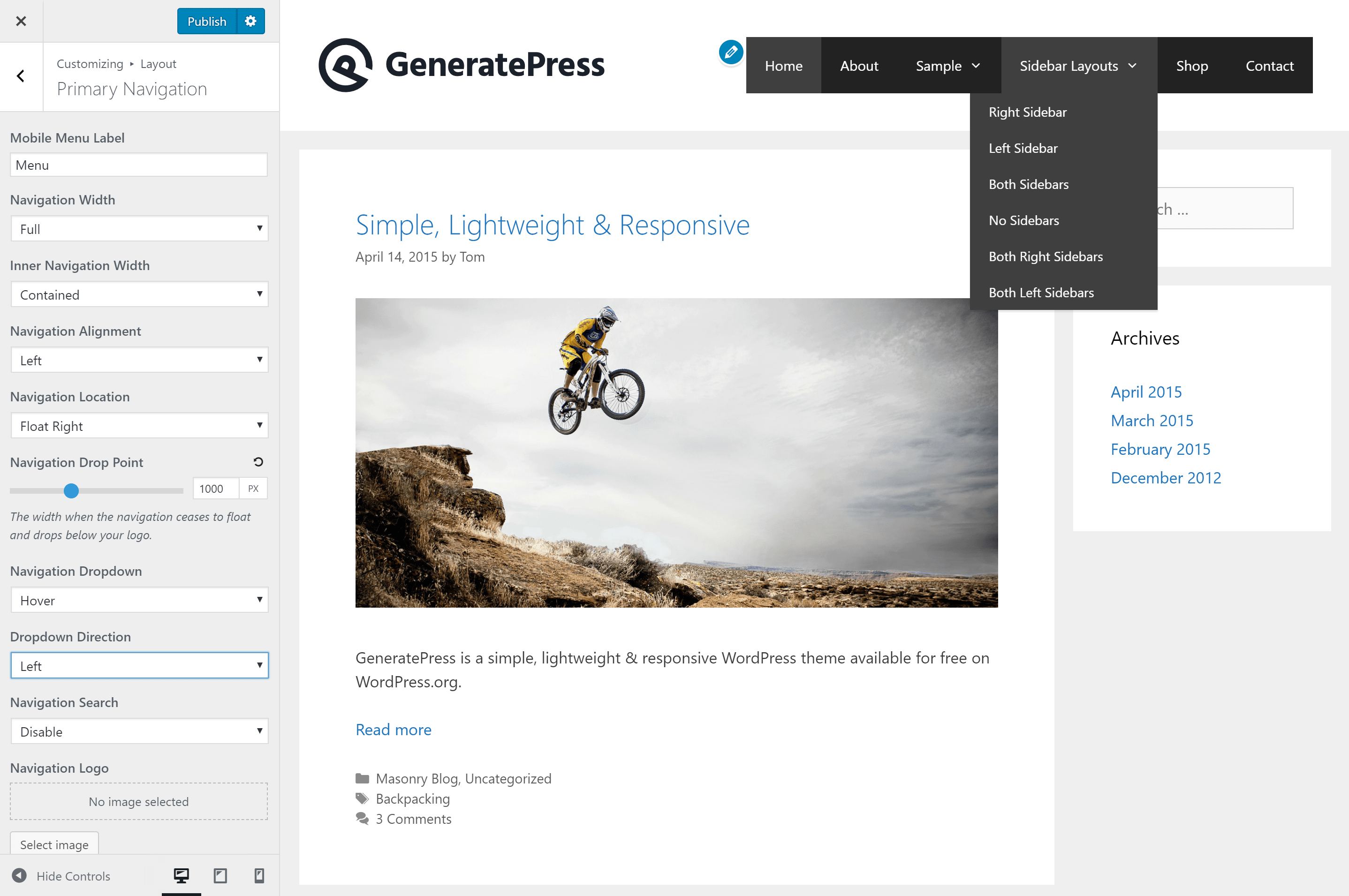 Header Presets
We've added a Customizer control to serve as a shortcut for specific header layouts.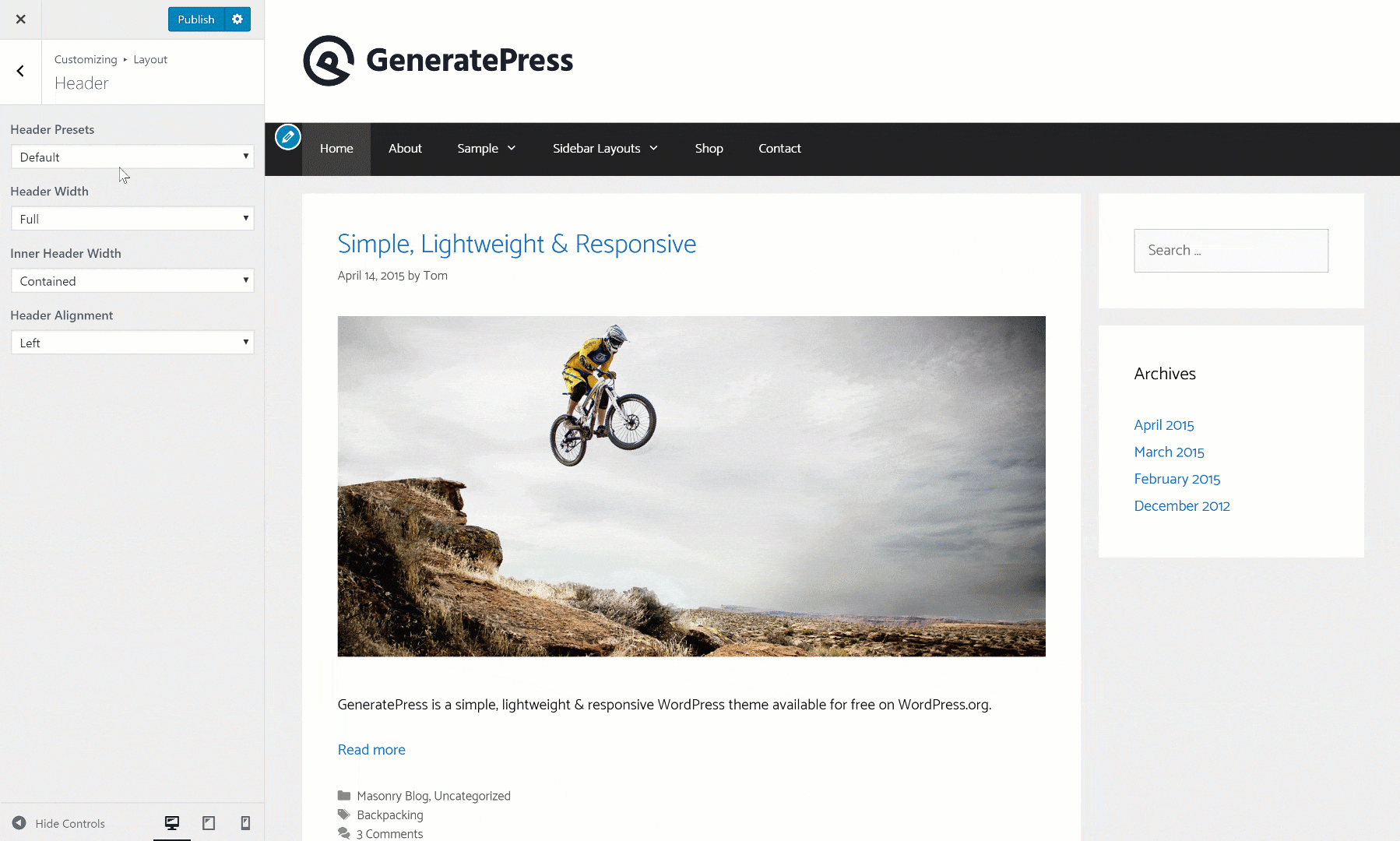 Navigation Color Presets
Like the Header Presets, we've added a Navigation Color Presets option to the Customizer. This option is helpful for free users so they're not stuck with one color. It can also be a shortcut for premium users.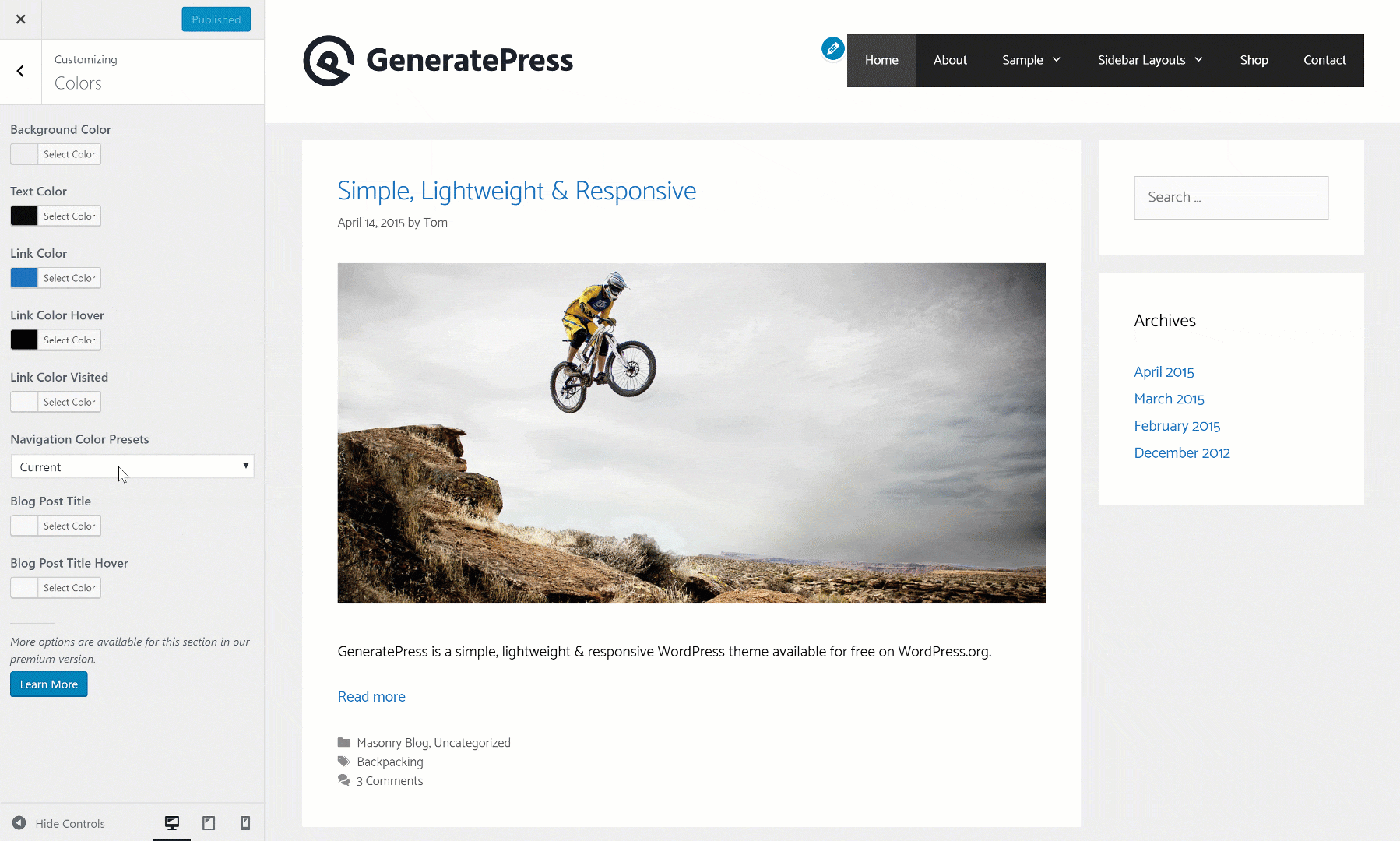 So Much More
This is a really big update. We've restructured our CSS completely, allowing us to actually reduce the filesize of style.min.css by 1kb, even with the Gutenberg additions.
We've also rewritten various PHP functions throughout the theme to be cleaner and more organized.
All of the individual functions we used to use to add HTML classes to elements have been deprecated and replaced by a single function: generate_do_element_classes( $context )
All microdata is now added via the new generate_do_microdata( $context ) function. This gives us better control over the added microdata (filterable), and allows us to turn it off completely using the generate_schema_type filter.
If you're using custom template files, you'll want to make the above change when possible.
Full Changelog
2.2
New: Sub-menu direction option
New: Floated navigation drop point option
New: Logo width option
New: Content title color option
New: Blog post title color option
New: H1-H3 typography options
New: generate_comment_form_title filter
New: Header Presets control inside the Customizer
New: Navigation Color Presets control inside the Customizer
New: generate_entry_meta_post_types filter
New: generate_footer_meta_posts_types filter
New: Add paragraph bottom margin to Gutenberg blocks
New: Add .alignwide and .alignfull class for Gutenberg blocks
New: Styling for Gutenberg gallery block
New: Add frontend styling to Gutenberg editor
New: Add defaults for H1-H3 bottom margin options
New: generate_show_default_sidebar_widgets filter
New: generate_schema_type filter
New: generate_{context}_microdata filters
Tweak: Output theme microdata using generate_do_microdata()
Tweak: Replace individual element class functions with generate_do_element_classes()
Tweak: Major PHP code cleanup
Tweak: Replace generate_get_setting() with generate_get_option()
Tweak: Remove default text-align: left from site header
Tweak: Only add navigation alignment class to body if necessary
Tweak: Major style.css cleanup
Tweak: Remove different sub-menu width if in sidebar
Tweak: Set navigation search height (fixes full height nav search on mobile/in sidebars)
Tweak: Change Delete Customizer Settings button text to Reset
Tweak: Add quick Customize links to GP Dashboard
Tweak: Give H4-H6 elements the paragraph bottom margin
Tweak: Don't close mobile menu when item is tapped
Tweak: Simplify a11y outline script
Tweak: Keep mobile sub-menus open if mobile toggle is closed
Tweak: Replace default sidebar widget content in template files with generate_do_default_sidebar_widgets()
Tweak: Clean up extra spaces in footer class attribute
Fix: screen-reader-text class conflicts with some plugins
Deprecated: generate_get_setting()
Deprecated: generate_right_sidebar_class()
Deprecated: generate_get_right_sidebar_class()
Deprecated: generate_left_sidebar_class()
Deprecated: generate_get_left_sidebar_class()
Deprecated: generate_content_class()
Deprecated: generate_get_content_class()
Deprecated: generate_header_class()
Deprecated: generate_get_header_class()
Deprecated: generate_inside_header_class()
Deprecated: generate_get_inside_header_class()
Deprecated: generate_container_class()
Deprecated: generate_get_container_class()
Deprecated: generate_navigation_class()
Deprecated: generate_get_navigation_class()
Deprecated: generate_inside_navigation_class()
Deprecated: generate_menu_class()
Deprecated: generate_get_menu_class()
Deprecated: generate_main_class()
Deprecated: generate_get_main_class()
Deprecated: generate_footer_class()
Deprecated: generate_get_footer_class()
Deprecated: generate_inside_footer_class()
Deprecated: generate_top_bar_class()
Deprecated: generate_body_schema()
Deprecated: generate_article_schema()