This release focuses on performance and usability. We aimed to solve complex questions we see in our forums frequently with simple solutions.
SVG Icons
You can now choose to replace the standard font icons used throughout the theme with SVG icons. This removes the requests for the font files and also makes the icons slightly sharper.
For now, using the icon fonts will remain enabled by default.
This option can be found in Customize > General.
Combine CSS

By default, GeneratePress will now combine unsemantic-grid.css, style.css and mobile.css into one file. This results in fewer HTTP requests.
Existing sites will turn this option off by default to prevent any potential conflicts.
When combined, GeneratePress will use a slimmed down version of unsemantic-grid.css, which only includes the classes that are needed by the theme to function.
This option can be found in Customize > General.
Container Alignment
GeneratePress has always used a box alignment to display your content and sidebars. This means the edges of the boxes align with the header/footer.

This can become an issue when your body and content background colors match. For example:

Our new Container Alignment option fixes this for us.

This option can be found in Customize > Layout > Container.
Inline the Logo & Site Branding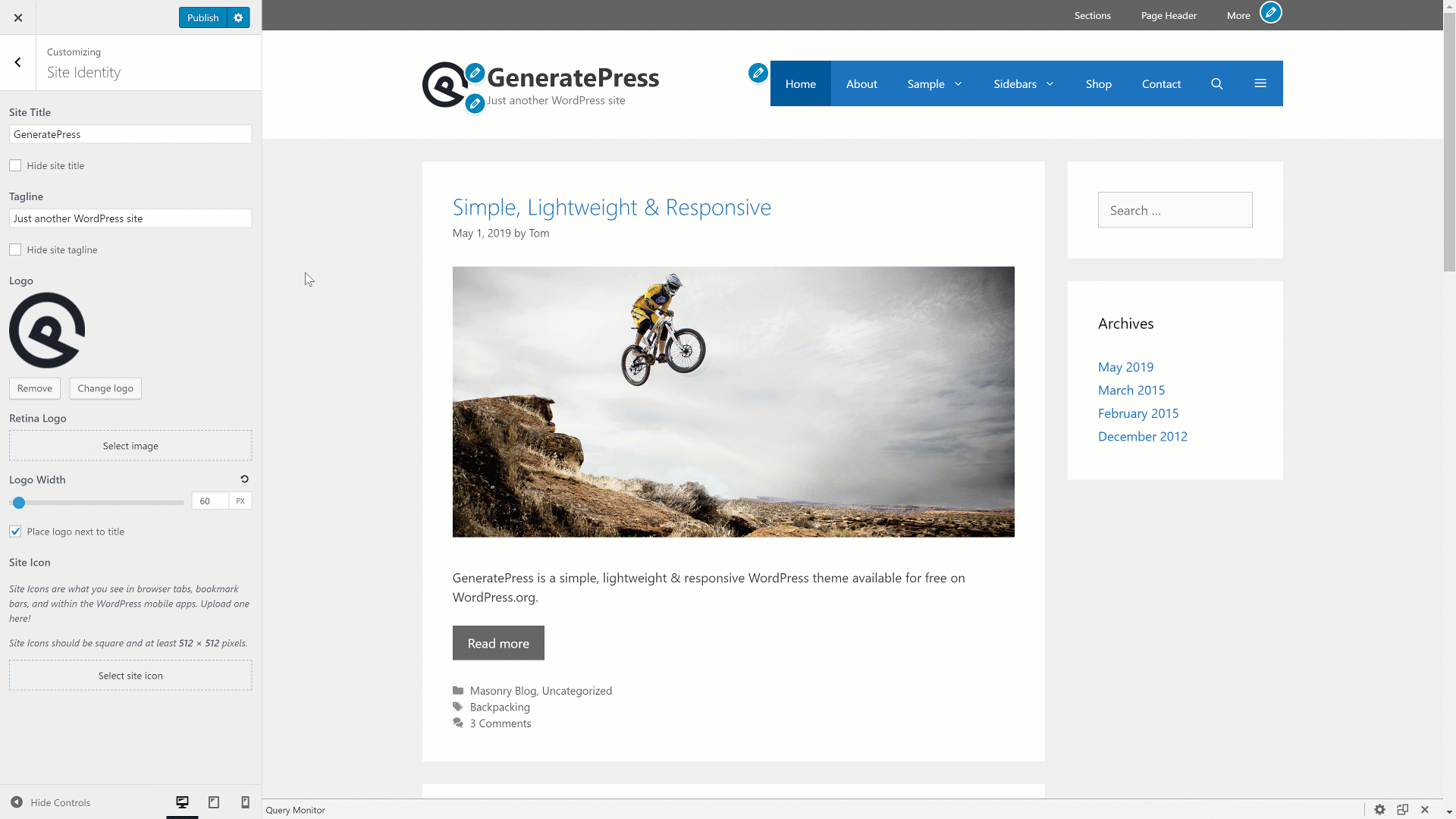 We've added an option to inline your logo and site branding (site title/tagline). This gives you a much better layout for those of you who wish to use both in their header.
This option can be found in Customize > Site Identity.
Better Post Meta Ordering
Currently, it's difficult to re-order your post meta. For example, if you want to move the list of categories above your content inline with your author and date, it requires a very complicated filter.
We've simplified this in 2.3, so it's as easy as doing this:
add_filter( 'generate_header_entry_meta_items', function() {
    return array(
        'date',
        'author',
        'categories',
    );
} );
The same applies for the footer meta area. Right now, it displays your categories, tags and comments link. You can now adjust that:
add_filter( 'generate_footer_entry_meta_items', function() {
    return array(
        'date',
        'categories',
        'comments-link',
    );
} );
Mobile Menu Breakpoint
Previously, we had to use CSS to change when the mobile menu initiated. Now, we can use a simple filter to choose:
add_filter( 'generate_mobile_menu_media_query', function() {
    return '(max-width: 1000px)';
} );
Full Changelog
2.3 – Release date: June 18, 2019
New: Add SVG icon option
New: Add option to inline the logo and site branding
New: Add combine CSS option
New: Add container alignment option
New: Add generate_header_entry_meta_items filter for defining/ordering header entry meta
New: Add generate_footer_entry_meta_items filter for defining/ordering footer entry meta
New: Add generate_header_items_order filter to order header elements
New: Add wp_body_open hook
New: Add generate_after_primary_menu hook
New: Add generate_mobile_menu_media_query filter
New: Add generate_after_loop hook
New: Add generate_show_block_editor_styles filter
New: Add generate_google_font_display filter
New: Add support for future mobile separating space option
Tweak: Remove footer widget placeholders
Tweak: Properly filter comment_form() defaults
Tweak: Check for container_class variable existence
Tweak: Align header to center on mobile even if aligned right
Tweak: Check for option existence in generate_get_option()
Tweak: Simplify separate container margin CSS
Tweak: Make navLinks a11y selector more specific
Tweak: Hook archive description in so it can be moved
Tweak: Set X-UA-Compatible in wp_headers filter
Tweak: Move Layout metabox to the sidebar by default
Tweak: Use generate_not_mobile_menu_media_query filter in nav drop point
Tweak: Target headings in blocks not necessarily in core heading block
Tweak: Increase tap targets of entry meta on mobile
Tweak: Remove negative margin from align-wide/full items when they're first block
Fix: generate_search_label filter
Fix: Sub-menu direction in right sidebar
Fix: Heading selector in block editor
Fix: Sub-menu dropdown on tablets/touch screens
Fix: Sub-menu dropdown click issue when no menu location is set