Responsive, Multipurpose WordPress Theme
GeneratePress is lightweight, powerful and easy to use!
Lightweight & Fast
GeneratePress doesn't try and do too much. The core theme only includes the bare essentials, and focuses on speed, search engine optimization and usability. Extend as needed!
Fully Responsive

Need your website optimized for mobile devices? Done! GeneratePress looks and functions just as awesome on mobile devices as it does on your desktop.
Microdata Integrated

GeneratePress uses microdata to effectively communicate with search engines and is built on an SEO friendly CSS framework which shows search engines your important content first.
Secure & Stable
GeneratePress has been approved on WordPress.org and uses the latest, most stable coding practices. Rest easy knowing your site is built using clean HTML5, CSS and PHP.
Customizable
Using the WordPress Customizer, you can change almost everything you see throughout the theme. Things like colors, fonts and spacing can be changed right in front of your eyes.
Compatible
GeneratePress is compatible with all major WordPress plugins, including WooCommerce, bbPress and BuddyPress. It's also compatible with all browsers (even IE8)!
Widget-Ready
Love widgets? GeneratePress comes with 8 different widget areas, including a left sidebar, right sidebar, header and 5 footer widget areas. Easily turn them on or off one by one.
Built-in Goodies
Yes, GeneratePress is lightweight, but we couldn't resist including Font Awesome. You can even use the built in CSS grid framework to display search engine friendly columns!
Developer Friendly
With plenty of hooks and filters, GeneratePress makes a perfect lightweight foundation for your next project – no matter what it is. Slap on a blank child theme and have at it!
Make GeneratePress More Powerful
Pick and choose from our collection of awesome add-ons!
GP Premium
Our entire collection, future add-ons included, packaged into one powerful plugin for only $30.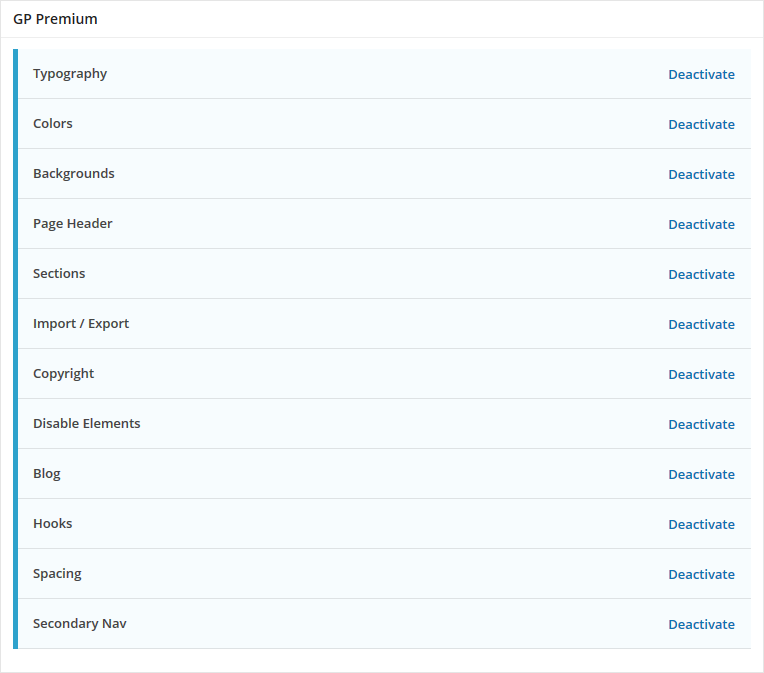 Combine Generate Press with its full suite of (paid) add ons with a little custom CSS & you've got a recipe for a Website that's truly yours. Have had it a week so far & I'm really looking forward to...

Lightweight and fast, accessible for new and experienced designers alike. Every so often you find one of those themes that is a perfect fit for your project and Generatepress is just that and more. The add-ons are superb value for...

After hunting for years and always settling for WP's yearly theme update, it always came down to pounding it into what I wanted. Finally leaving the WP theme area and creeping out into the authored themes, finding little success there,...

I am a WordPress beginner, I have been using WordPress for almost 2 months now and this theme has been my introduction to WordPress - a very pleasant introduction. Even the free theme has many easy customization options and works...

After trying out 10 + themes, this is the only theme that I found which has: - A clean and sleek design - Many customization features and options - Lots of widget placeholders - Fantastic support I highly recommend this...

I'll cut right to the chase. Generate Press is a great theme, with a ton of easy customization options available. I went ahead and bought GP Premium almost immediately, and I have been extremely satisfied. While the theme is great,...

In the past I had always assumed you had to pay $50 or $75 for a quality theme. Not true! I love GeneratePress. It's better than the last theme I paid $75 for. And, most important for me, it's super-simple....

Tom Usborne and staff go above and beyond to make sure problems and issues are solved in a timely manner! By far some of the better support and customer service I've ever experienced!!

Seriously! How does this only rate 4.9? Generate Press and more importantly Thomas are amazing. This layout is intuitive, easy to use and the prices is ridiculously low compared to competitors. Give this man some applause because he's outdone himself!

A great theme that allows deep customization in the WordPress way. Instead of shortcodes, custom screens and stepping into plugin territory, you can use the customizer and meta boxes for lots of simple stuff. If you want complex customization with...

The theme allows novices to easily customize a wide range of elements but is so simple and clean that it will not limit your design options going forward. I highly recommend the addons. Go for the bundle. It's well worth...

My wife and I have used the default Twenty Twelve theme on our beer blog (beermakesthree.com) for 2 years. Every time I tried to use a new theme, several I even paid for, I couldn't make it work. My HTML...

A client is migrating from Joomla 1.5 to WordPress 4.0. This template eases all my worries! The add-ons are the perfect compliment to a flexible and pleasing template. Great job! MUCHO KUDOS!

Quick. Easy. Flexible. I used this to replace Thesis. It is very easy to use and the support is quick, friendly and helpful. My experience with Thesis did help me do things faster. Hooks, CSS - a little knowledge of...

This theme is great. It's visually clean and has removed the need for all my normal custom css coding. The responsive menu design on phones is beautiful and practical. I like the payment structure as it lets you pay just...

Could not be happier with this theme. Very easy to setup. I'm new to WordPress and had my site up in one day. If you want a simple and easy to use theme, this is the one for you. I...

I was frustrated with SquareSpace and a few other WordPress themes because they did not offer enough customization. Then I found GeneratePress, with its easy but useful add-ons and helpful support, and I fell in love. If you want your...

The best WordPress theme that I have come across by far and the support that you get is simply awesome and the guy works hard to improve different parts of the theme every time.

What a great find! This theme solves so many problems you usually have with other themes: Finally a theme that gives you very easy control over the look of your site without requiring you to spend hours fiddling around with...

For nearly 20 years I've been a print designer and have very little understanding of web design or web programming. I recently watched a Linda.com tutorial on WordPress and then installed the GeneratePress theme. So far I find it very...

Bravo. This theme looks good, works well, and the code is well thought out and expertly assembled. Support is very good, as well. Any questions I've had were previously addressed by the developer in the support forums on WP or...

The wordpress theme may look very plain when it is first installed, but it is relatively easier to create a simple look and feel that I want. The support was great. For those who do not mind some hands-on on...

I was looking for a nice clean theme that I could customize and would work on mobile devices. When my friend found out about my site he said I should make an app as well. I told him to check...

This theme is the best I've ever used. No hassle, no overuse of bloated 'easy customization' stuff, it's sane, practical, clean and very easy to customize with a child theme. It uses standard practices so you can use the plain...

This is the future of WordPress themes. Free theme that is built rock solid and light weight core of HTML5 CSS3. Theme is fast as lightening. Then add premium plugins to add the options and capabilities as needed. Plugins that...