GP Premium 1.7 is a big update with various fixes, tweaks and new additions!
Introducing Elements
The biggest change in 1.7 is the addition of Elements, our newest module.
This new module replaces the Page Header and GP Hooks modules. Of course, those modules will still exist and function as they do now if you're using them. When and if you're ready, you'll be able to manually migrate your old Page Headers and Hooks to Elements. For more information on migrating, check out this video.
Once you're done migrating, you can deactivate the old modules, and they will disappear from the list.
New installations will no longer be able to activate Page Header or GP Hooks.
Header Element
Check out the Header Element documentation here.
The Header element replaces our old Page Header module. This element has most of the same options as the old Page Headers.
When you create a new Header element, you have a couple choices.
Page Hero
The Page Hero section allows you to build a hero section which will sit below your site header. This is what was previously known as a "Page Header".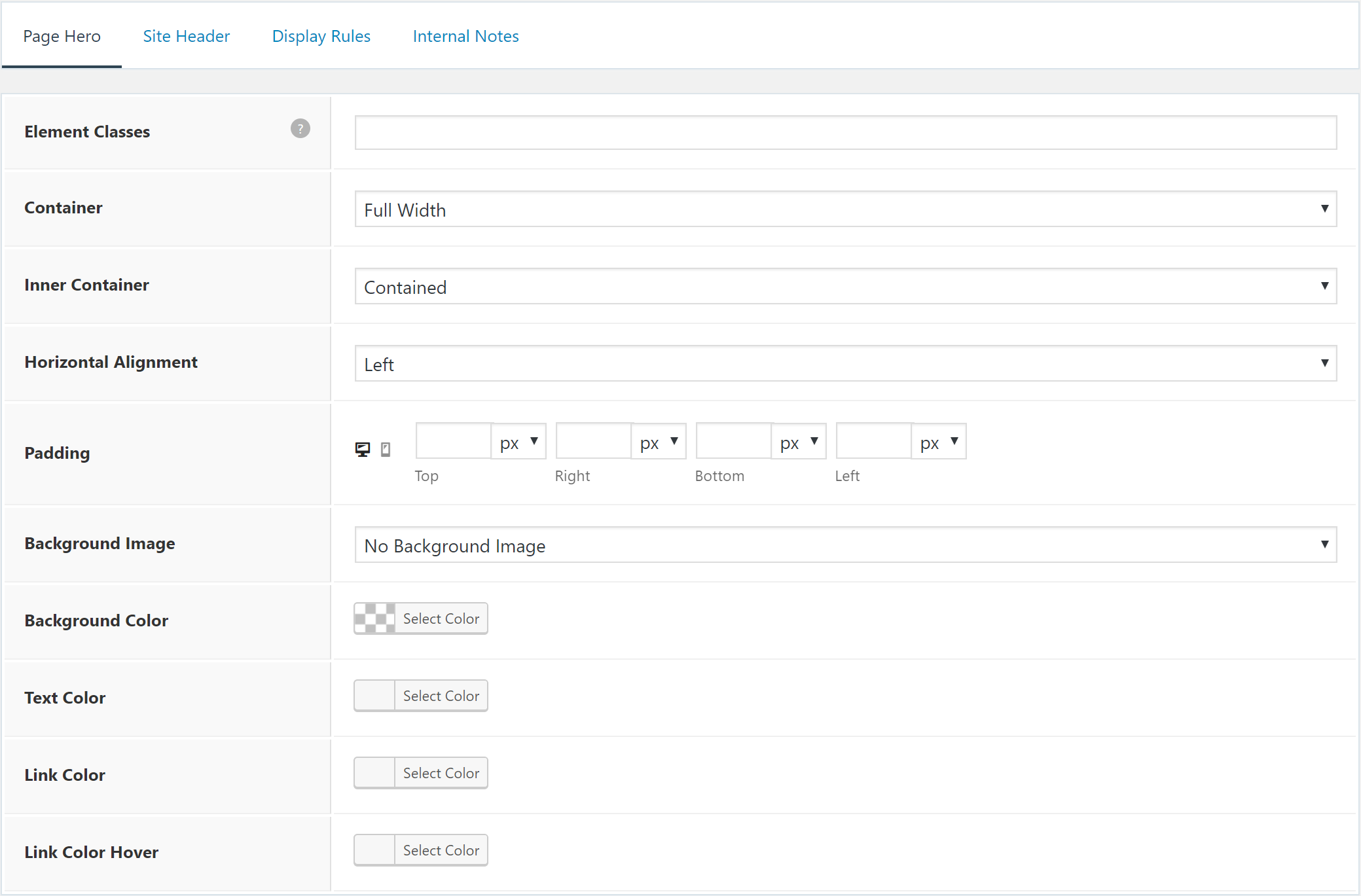 Site Header
The Site Header section allows you to make changes to your site header. This includes things like changing the site logo, merging the site header with the content below it, and even changing the navigation location.
Hook Element
Check out the Hook Element documentation here.
The Hook element replaces the GP Hooks module.
This element allows you to insert content into any available hook on your website. There's a list of available GP and GP Premium hooks, and there's a custom hook option that allows you to define your own hook name if it doesn't exist in the dropdown.

Layout Element
Check out the Layout Element documentation here.
The Layout element allows you to set the same options you're used to in the Layout metabox, but on a site-wide scale.
This means you can change the sidebar layout on specific categories for example, or set the content layout to full width on your entire site if you're using a page builder everywhere.
This element is a massive time saver.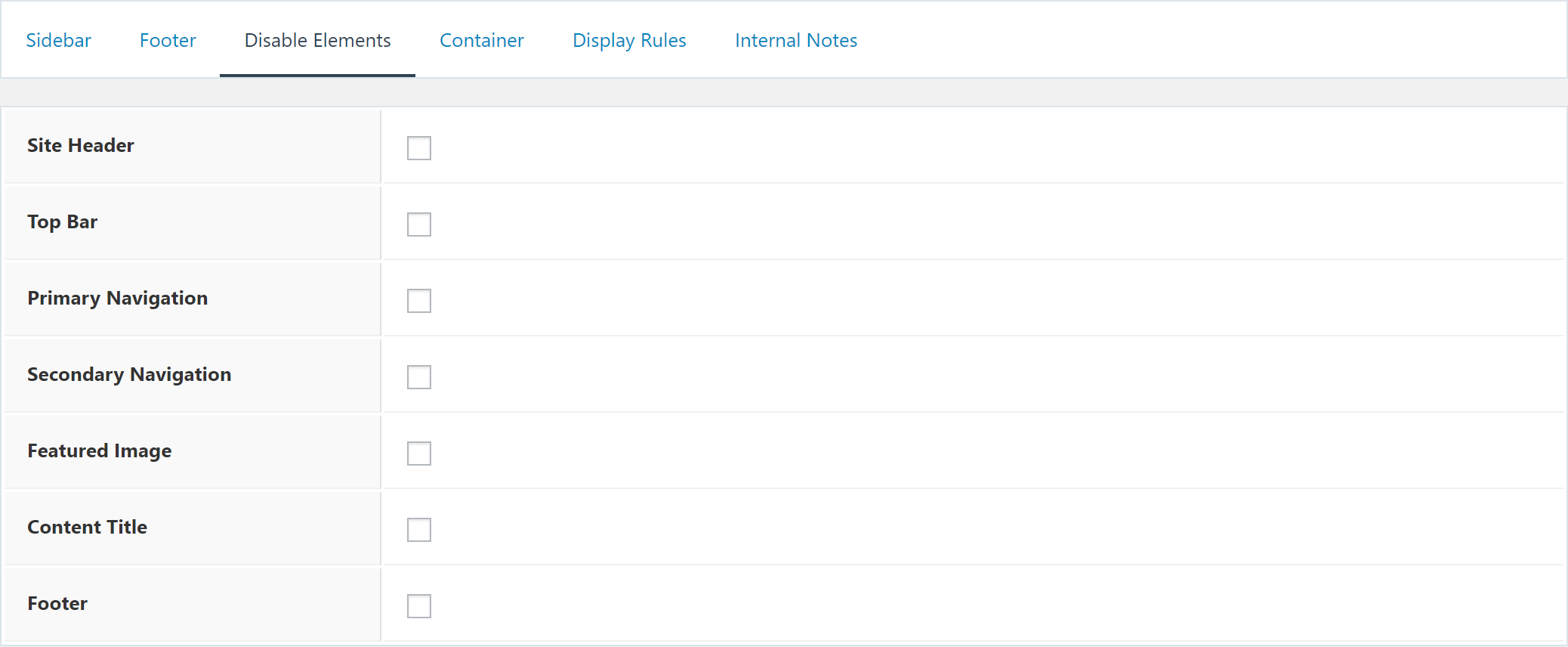 Display Rules
Each element has a Display Rules tab. This tab is the true power behind this new module.
In order for your element to display anywhere on your website, you must set certain conditions within the Display Rules tab.
These settings allow you to display your element throughout your site. You can choose specific pages, posts, categories etc.. You can even tell the element to display across your entire site.
You can also exclude the element using the same conditions. For example, you can tell your element to display throughout your entire site, excluding the About page.

Full Changelog
Blog: Prevent masonry container jump on load
Blog: Change "Full" label to "Full Content"
New: Elements module
Elements: Header element (replaces the Page Header module)
Elements: Hook element (replaces the Hooks module)
Elements: Layout element
Hooks: Replaced by Elements module
Hooks: Move link to legacy hooks inside Elements area
Import/Export: Re-write code
Import/Export: Import activated modules
Menu Plus: Fix slideout close button alignment/color issues
Menu Plus: Fix slideout issue with relative main navigation CSS
Menu Plus: Fix ul display inside slideout navigation widget
Menu Plus: Change Slideout Navigation theme location label to Slideout Menu
Menu Plus: Close slideout navigation when a link within it is clicked
Menu Plus: Show slideout navigation theme location option after Primary
Menu Plus: Improve a11y of slideout navigation
Menu Plus: Add .site-wrapper class compatibility to sticky nav

Menu Plus: Prepare offside.js for future button dropdown menu toggle

Menu Plus: Add .slideout-exit class to close slideout
Page Header: Replaced by Elements module
Page Header: Move link to legacy Page Headers inside Elements area
Page Header: Fix hentry Google Search Console errors
Page Header: Fix clearing element issue
Page Header: WPML fix in global locations
Page Header: Prevent PHP notices within Elementor Library area
Page Header: Fix retina logo issue (in new Elements module only)
Page Header: Show original logo in sticky navigation (in new Elements module only)
Page Header: Add mobile header logo option (in new Elements module only)
Secondary Nav: Show theme location option after Primary
Sections: Allow Sections when Gutenberg is activated
Sections: Hide Gutenberg editor when Sections enabled
Sections: Fix text domain issues
Sections: Use regular checkbox for use sections
Spacing: Add future support for sub-menu width option
Sites: Fix .complete class conflicts
Sites: Add GENERATE_DISABLE_SITE_LIBRARY constant
Sites: Remove verified provider debug notice
WooCommerce: Add shopping bag and shopping basket icon options to cart menu item
WooCommerce: Fix WC error with non-product post types
WooCommerce: Fix too many WC star issue
WooCommerce: Add CSS for cart menu item in secondary nav
WooCommerce: Add WC menu item location filter to mobile cart
WooCommerce: Fix issue with disabling sale badge when set to overlay
WooCommerce: Add option to disable/enable sale badge on single product pages
WooCommerce: Fix my account icon on mobile
General: Fix smooth scroll issues on mobile
General: Improve overall smooth scroll functionality
General: Add generate_smooth_scroll_elements filter
General: Move GPP icons from Font Awesome to custom icons
A11y: Add context to all "Contained" strings
8/15/2018 – 1.7.1
Elements: Fix PHP error in PHP 5.3
Elements: Fix Choose Element not showing due to some third party plugins