March 24, 2015 at 9:12 am
#90912
Tom
Lead Developer
Lead Developer
I totally agree – this is actually why the Sections add-on hasn't come out as quick as I would have liked.
One thing I've done is add a button which will transfer all of the content from the Sections add-on to the default editor, so it gives people the choice to quit the add-on and move to a different theme, without having to manually re-enter all of their content.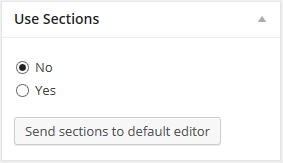 At some point, I would like a button to do this to every single page using Sections if someone decides they no longer want to use GeneratePress.