Responsive, Free WordPress Theme
GeneratePress is fast, powerful and easy to use!
Lightweight & Fast
GeneratePress is a fast, lightweight WordPress theme. With the modular structure of GP Premium, you can add the features you need when you need them.
Mobile Responsive
Tablets and mobile devices are only getting more popular, and your site needs to perform on them. Our theme is fully responsive straight out of the box.
Microdata Integrated
GeneratePress is a fully schema.org microdata integrated WordPress theme, which boosts your communication with search engines.
Secure & Stable
Our theme has been reviewed and approved on WordPress.org and uses the latest and most stable coding practices. Rest easy knowing the code behind your site is clean and efficient.
Customizable
GeneratePress is one of the best customizable WordPress themes available today. Use the WordPress Customizer to live preview all of your changes before taking them live!
Compatible
Our theme is compatible with all the major WordPress plugins, including WooCommerce, WPML, bbPress and all major Page Builders! It's also compatible with all major browsers, even IE8!
Translation & RTL Ready
GeneratePress is already translated into over 20 languages, and the list continues to grow with contributions by our amazing community. Right-to-left languages are also fully supported.
Font Awesome
Who doesn't love icons? Font Awesome is built right into GeneratePress so you can take advantage of over 600 icons in your content and design. It's super powerful and easy to use!
Developer Friendly
With tons of hooks and filters (developer stuff), GeneratePress is the perfect lightweight WordPress theme for your next project and can help you considerably reduce development time.
GP Premium
Trusted by 18,000+ happy customers!
All 12 add-ons & future releases
Unlimited websites
Lifetime usage
1 year of updates & support
30 day money back guarantee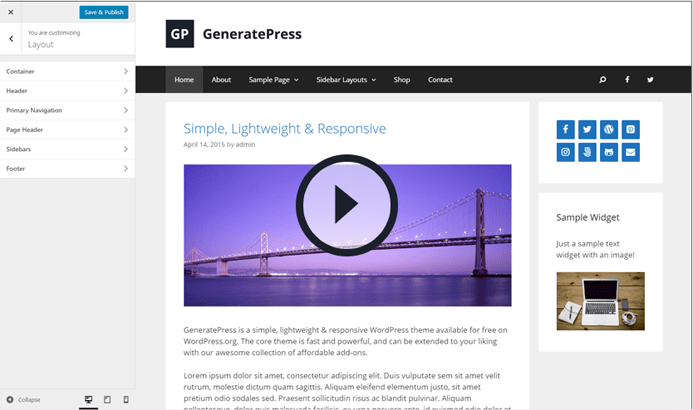 I am not a person who generally provides reviews, mostly because of time constraints. However, I just had to come here and make an account with WP so I could join the chorus of happy GeneratePress users getting the word out to the WP community about this fantastic theme! I am a several-months new user of WordPress. I have no coding skills, yet want control over the customization of my site. I have two other (prominent, highly marketed) themes that...
Thanks for this theme Tom. Folks, this is a VERY good theme. And I don't say that lightly. I've been using WordPress since the beginning and have tried 100's, if not 1000's of themes, and I really, really like this theme. I like it even more, now that I've purchased the add-on plugin. I can create any type of site design I want with this theme. It rocks!
I'm a brand new WordPress user and picked the Generate Press free theme for my first-ever blog because it's such a clean, attractive theme that's incredibly easy for a novice to figure out. I then purchased the Premium Add-On upgrade because the demo looked like it would add an amazing amount of customization, that I could actually figure out with my zero level of experience. Downloading the Add-On was a major problem for this newbie. Tom (and another user also)...
My wife and I have used the default Twenty Twelve theme on our beer blog (beermakesthree.com) for 2 years. Every time I tried to use a new theme, several I even paid for, I couldn't make it work. My HTML skills are stuck pre-Y2K and I'm hopeless with CSS. When I found the Exhibit theme, a GeneratePress child theme, it worked great. I bought the entire GeneratePress add-on pack and it's really let me easily customize the blog. We think...