Responsive, Free WordPress Theme
GeneratePress is fast, powerful and easy to use!
Lightweight & Fast
GeneratePress is a fast, lightweight WordPress theme. With the modular structure of GP Premium, you can add the features you need when you need them.
Mobile Responsive
Tablets and mobile devices are only getting more popular, and your site needs to perform on them. Our theme is fully responsive straight out of the box.
Microdata Integrated
GeneratePress is a fully schema.org microdata integrated WordPress theme, which boosts your communication with search engines.
Secure & Stable
Our theme has been reviewed and approved on WordPress.org and uses the latest and most stable coding practices. Rest easy knowing the code behind your site is clean and efficient.
Customizable
GeneratePress is one of the best customizable WordPress themes available today. Use the WordPress Customizer to live preview all of your changes before taking them live!
Compatible
Our theme is compatible with all the major WordPress plugins, including WooCommerce, WPML, bbPress and all major Page Builders! It's also compatible with all major browsers, even IE8!
Translation & RTL Ready
GeneratePress is already translated into over 20 languages, and the list continues to grow with contributions by our amazing community. Right-to-left languages are also fully supported.
Font Awesome
Who doesn't love icons? Font Awesome is built right into GeneratePress so you can take advantage of over 600 icons in your content and design. It's super powerful and easy to use!
Developer Friendly
With tons of hooks and filters (developer stuff), GeneratePress is the perfect lightweight WordPress theme for your next project and can help you considerably reduce development time.
GP Premium
Trusted by 23,000+ happy customers!
All 14 add-ons & future releases
Unlimited websites
Lifetime usage
1 year of updates & support
30 day money back guarantee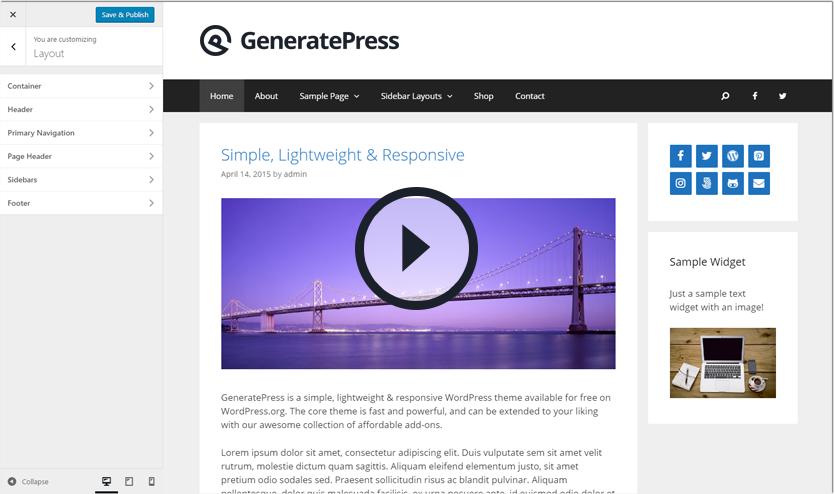 I normally don´t write reviews for anything but I was so impressed by this theme that I just had to express my admiration for the developer. I´ve been through tons of different WP-themes trying to find the best one for my site without ever really finding the right one. I needed something with a simple functional design, yet highly customizable with many different layout options. I have a basic understanding of PHP, html and css and I´m able to do...
I originally purchased GeneratePress and the Add-ons because I loved the minimalist design and great ease of customization options. After owning the theme/plugin for half a year, I can say the support is even better. Tom responses to questions quickly and with friendliness. Simply go to GP's Support Page [http://generatepress.com/support/] and see for yourself how fast and efficiently Tom gives advice and answers. Couldn't ask for a better developer.
After hunting for years and always settling for WP's yearly theme update, it always came down to pounding it into what I wanted. Finally leaving the WP theme area and creeping out into the authored themes, finding little success there, I stumbled onto Generate Press. I think I have found heaven. It is EASILY configurable with everything - colors, content blocks, layouts - it is truly amazing. No more child-theme abuse as it is all contained in the "customizer". There...
A great theme that allows deep customization in the WordPress way. Instead of shortcodes, custom screens and stepping into plugin territory, you can use the customizer and meta boxes for lots of simple stuff. If you want complex customization with a child theme, this a wonderful parent theme, with lots of hooks to add content just anywhere, very clear CSS that you can easily override without ids or !important, and very responsive support. Paid plugins are cheap and they offer...